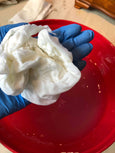 White Lightning Cleaner
$14.95 AUD
Dixie Belle's White Lightning is a powerful product for cleaning projects before painting.
White Lightning degreases and de-glosses while removing dirt and grime from your furniture or cabinets and is an important part of paint prep.
Comes in powder form. Dissolve 2 tablespoons in 4 litres of warm water and wash your piece. Be sure to rinse thoroughly.