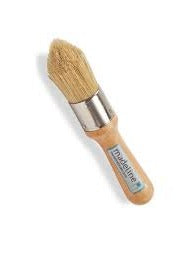 Wax Brush - POINTED | Madeline
$39.95 AUD
Madeline Brushes are made with the highest quality 100% natural bristles.
The long, full bristles are firm yet flexible for the smooth application of wax. The tapered, short, hardwood handle is comfortable and easy to hold, and is finished with a lacquer for maximum durability. The nailed steel ferrule is solvent and rust proof.
Madeline Mini Flat Brush and Madeline Mini Tapered are about 1" diameter and perfect for detail work as well as flat surfaces.