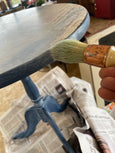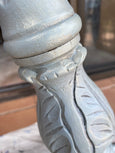 
Dixie Belle Glaze - 9 Colours!
$24.95 AUD
Dixie Belle Glaze is an easy-to-use, water-based decorative finish to create luminous one-of-a-kind finishes while allowing the base colour to show through. 
Add depth and dimension using any or all of the nine colours intermixed or layered to create your own unique blend. 
Colours include:
Black - deep ebony, very dramatic over green or red
Copper Bronze - a perfect terracotta iridescent metallic
Gold Shimmer - a golden shimmer metallic  
Grunge - smoky grey, gives a weathered look to raw wood or painted finishes
Hi-Ho Silver - gleaming silver metallic
Pearlescent - shimmery pearl, tint with paint to create a custom pearl glaze
Sapphire Pearl - blue pearlescent 
Van Dyke Brown - aged brown for an antiqued look
Whitewash - flat white, goes well over blues for a coastal theme
118ml