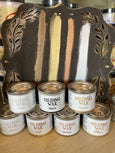 Silver Gilding Wax | Dixie Belle
$32.95 AUD
Dixie Belle's Gilding Wax highlights and enhances the details of your project with a shimmering metallic finish. Glides on easily, leaving a metallic luster while enhancing texture and detail.
Gilding Wax is an oil-based product that comes in stunning shades of Silver, Black, Copper, Gold and Bronze.
Use Gilding Wax in a well ventilated area.
40ml

Note: Zinc is not available in Australia