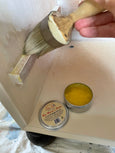 
Big Mama's Butta Wax
$36.95 AUD
Dixie Belle's Big Mama's Butta is a soft, buttery wax that is water-resistant, easy to apply and comes in unscented or four essential oil scents that help neutralise odours.
Big Mama's Butter contains all natural hemp seed oil, coconut oil, beeswax and carnauba wax. It also protects from mildew...and insects!
For use over raw wood or paint. Apply to drawer rails to help drawers slide easier. 
Available in 120ml or 300ml in four (essential oil) scents:
Orange Grove
Suzanne's Garden (rose fragrance)
Unscented (add your own essential oils)
Flannel
Fresh & Clean (subtle mint and eucalyptus fragrance)